(Special Research Student)
The kenshusei program consists of a four year intensive program which is split into eight six month semesters. It covers the basic syllabus of Jiyushinkai Aikibudo including the first three levels of instructor certification.
The curriculum for instructor training includes: education and learning theory, anatomy, physiology, and kinesiology concepts, history, philosophy, and basic psychology and personality theory, plus lots of practical teaching experience monitored by experienced teachers.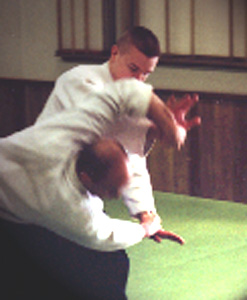 Aaron Clark Sensei and Keith Slatoff